Our top client Awono Junior is crowned best midfielder of the Elite One (Division 1, Cameroon) for the year 2017.
Awono who is a very fast, tactful and intelligent player recently drove his team to the semis of the Cameroon Cup competition. He is both captain of the national amateur team and his first division club Yong Sports Academy -YOSA.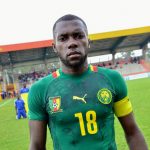 His team, staff, colleagues and family highly welcomed this prize and award which to them is a prove of Awono´s continuous years of hard work, discipline and engagement.
Added to this title, the voting jury as well awarded him the position of second best player of the national Elite One league for this same sports year.
On joining our agency he promised to work harder and win more prices in the next seasons to come were ever he finds himself.
Our team has evaluated him as one of Cameroon´s top growing talent with numerous potentials and a super bright professional career to come. He now aspires for bigger challenges and opportunites.